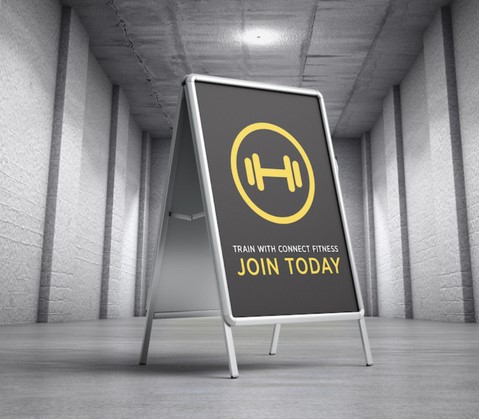 Promote your brand with A-Frame signage in Melbourne
A-frame signage boards are self-supporting, portable, and foldable, and can easily convert into a compact size. These signs are widely used by restaurants, boutiques, commercial offices, cafes, road works, parking areas, etc. There are endless ways in which an A-frame can be used to help your business grow in melbourne.
Since an A-frame gives clear direction to the people, it is widely used to ease heavy traffic situations. Moreover, it's used in parking areas to guide people in the right direction and big events to manage the work efficiently without causing any difficulties. Thus, it is called handy and freestanding signs.
Customise A-Frames for your upcoming events in Melbourne!
A-frame signs are the best ways to grab the attention of your targeted audience. It can be used in restaurants to write menus and specials of the day or offer discounts on meals during the festive season in your cafe. That's a great way to attract your customers and create brand awareness.
A-frame signs have two panels which is connected by a hinge. These 2 panels open and close like a book and is popularly known as a sandwich. This frame can be used both as a single, and double side according to your requirement.
With A-frame, you can be more creative and boost your brand value and let people know about your products and services. Surely, customers love such things when you add new dimensions to advertise your brand by designing your own A-frame signage.
What are the materials used for A-frame signs?
A-frame sign stand can be made from multiple materials, such as plastic, metal and changeable board signs. Moreover, you have an option for whiteboard and blackboard that you can choose as per your requirement and we will customise it for you.
It is an easy and affordable way to advertise your brand during any event. Furthermore, it can be placed indoors and outdoors without any hassle.
At McLaren Digital Press, A-frames offer benefits for both worlds. It attracts people and is made with high-quality materials that last for years to come without getting rust, fade and tear out.
Why Choose us to design your A-frame signs in Melbourne?
At McLaren Digital Press, we customise all kinds of a-frame according to your requirements. It comes in different shapes and a wide variety that you need to select from the broad category to make it interesting and reflects your brand image. It is very easy to set up and locate from one place to another without hassle. Thus, it is widely used in corporate events.
If you are looking for a bulk order in melbourne, do let us know, our professionals are always ready to help you with the best of their knowledge and expertise.
In a nutshell, we ensure that, whatever you choose, we will get it designed for you by using high-quality materials. Additionally, we do powder coating on A-frame signs to prevent rust and corrosion.